Art Project
Atlas Pandemica: Beauty in the Broken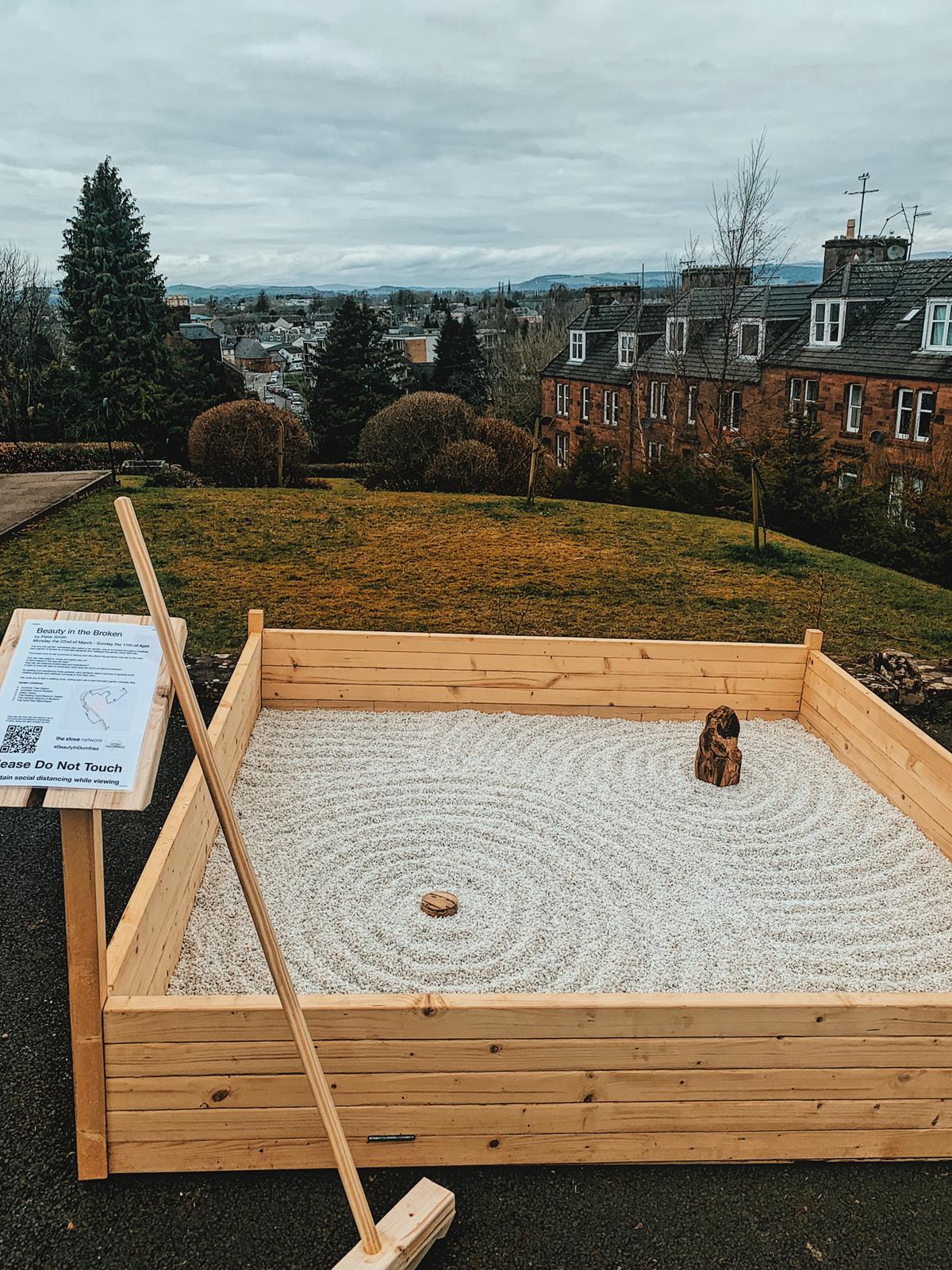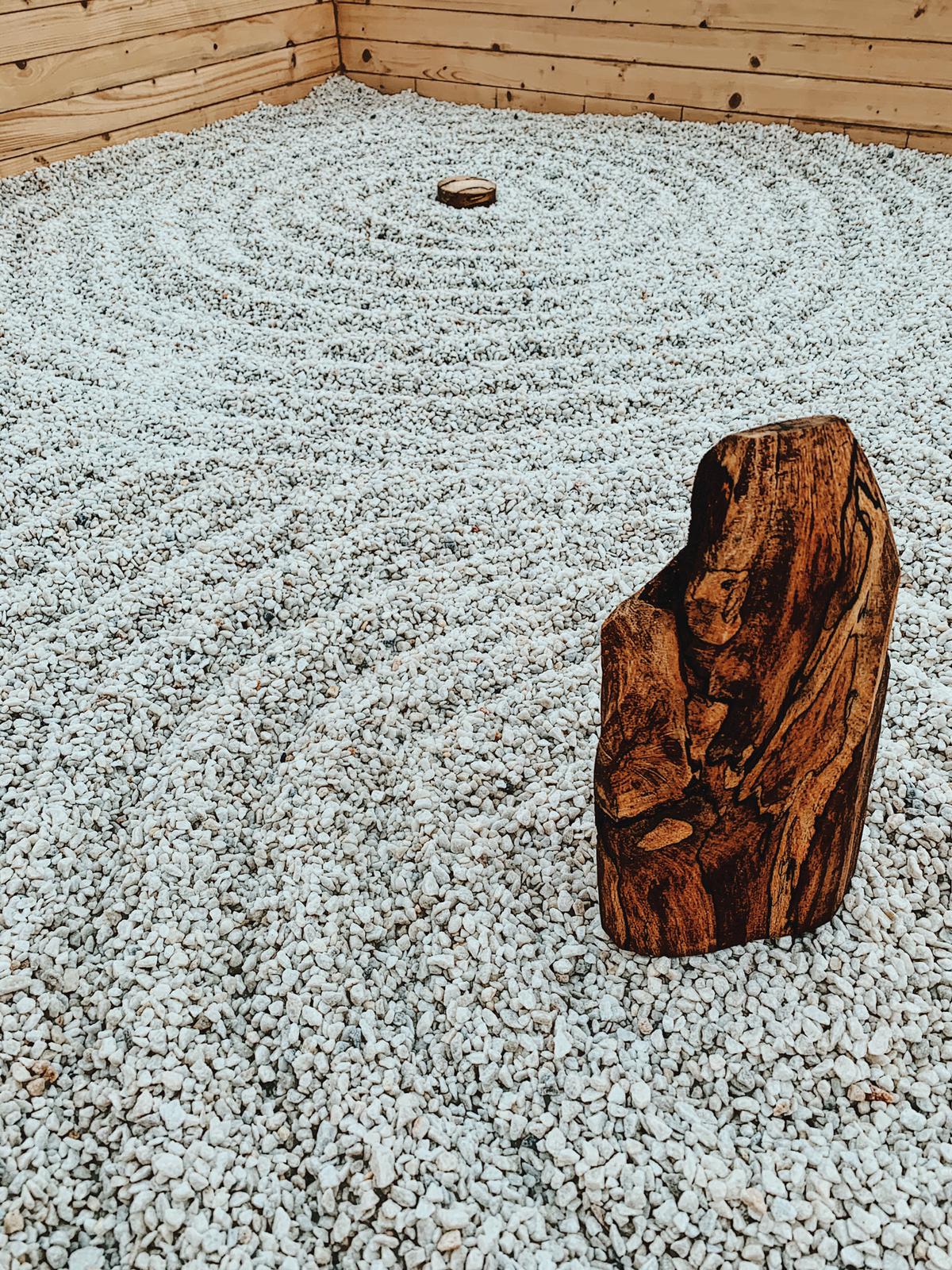 We are taking a journey into how philosophies of repair, tending and rebuilding can be a mindful practice that helps both individuals and a community heal.

As covid-19 has broken us, we repair in a new, beautiful way.
We don't try to hide these breaks and damage, but we repair our town and community - creating something unique and powerfully beautiful.

The starting ground lies in Japanese philosophies of Wabi Sabi & Kintsui and worked out through the practice of Rock Gardens

Wabi-sabi is succinctly described as 'the beauty in imperfections'.

Kintsugi is the repairing of broken things, making them something beautiful in a new way. This is best seen in pottery, where broken shards are reconnected with gold seams making beautiful pieces.
I see this project as a social Kintsugi, worked out through the mindful practice of rock gardens, sometimes called zen gardens.

Each garden is tended by a volunteer Gardner who redesigns the garden anew each day.
The project aims to ask questions of healing from the effects the pandemic has had on the town.

How can new patterns, rituals and habits help us?
Is there beauty in the way we heal?
How can we embrace brokenness and imperfection?
A year on from the start of lockdowns, what have we found out about ourselves?

By tending and maintaining these gardens, each gardener takes a journey of applying small creative practices and reflective moments to their daily lives.
We invite you to take a walking route, visiting each site to see how each garden changes daily.

Garden Locations:
Dumfries Train Station
Ewart Library
Dumfries Council Building
The Rowing Club/Otterburn Gallery
Dumfries Museum/Camera Obscura
The Dock Park Band Stand



Atlas Pandemica: Beauty in the Broken - Day one
Monday 22nd March 2021

All the gardeners now have thier tools and gave things a test run.
From now one if you have a wander along the route, you'll find the gardens filled with patterns and designs

The garden at Dumfires Train Station was chosen as a site because the station is a location so rooted in routines and patterns. Many people use the train to commute for work or travel to visit family and friends in Glasgow, Carlisle, or anywhere in between

I think for many of us, these routines gave us structures and security.
With many of these disrupted now, we have been creating new habits, routines and rituals. What have you picked up? Does it help you find focus?
Atlas Pandemica: Beauty in the Broken - Day one
Tuesday 23nd March 2021


Today was the proper start to the project, which lines up with the year anniversary of the start of the first national lockdown.
Lockdown caused a number of delays in the project start, but as we saw the various next opportune dates - this was clearly the one to aim for.
Theres something really poignant in marking one year of an entirely unique year, where so much has changed and so many lessons have been learned.

I'm going to write up further about the origins of this project soon. But its base is in the really beautiful Japaneese philosophies of Wabi Sabi and the practice of Kintsugi. These see flaws, imperfections, repair, and healing as valued qualities.
When I look back over this year it's clear there has been some real pain, damage and scars. The sense of loss, of loved ones, of intimacy, contact and connection, as well as lost time too. But... I also feel that we've learned so much, cared for each other so deeply - compassion and kindness shared between neighbours in ways we didn't think existed anymore.

Some of the scars we've gained, are healed by each other's kindness.